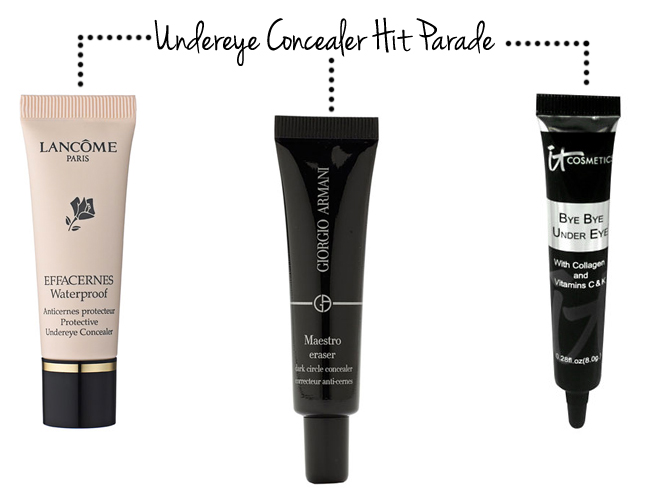 I've come across quite a few undereye concealers lately. There are three that blew me away. Here are my favorites: 
Lancôme 'Effacernes' Waterproof Protective Undereye Concealer: This creamy concealer comes in 12 shades that leave a soft, matte finish. How brillant is waterproof concealer? I'm always rubbing my eyes, often with allergy tears, so I love the endurance this offers. And how brillant is this stuff for weddings and other tear-jerker events?
Giorgio Armani 'Maestro Eraser' Dark Circle Concealer: I mentioned this concealer a couple weeks ago, but it merited another plug. I fell hard for this skincare/makeup hybrid. The fine, thin formula is unique. But don't think the lightweight formula doesn't cover. It is just as complete coverage as the thicker options. The finish is radiant and luminous.
It Cosmetics Bye Bye Under Eye Concealer: This concealer is serious business, developed with Brazilian plastic surgeons. Intensely full-coverage, this highly-pigmented formula will cover anything. Vitamins and Collagen reduce puffiness and strengthen that delicate skin. This also will cover any bruises, whether they be from a cosmetic procedure or a moment of klutziness.