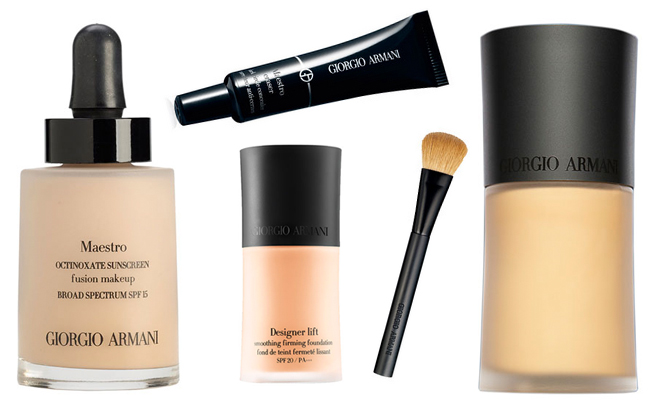 Armani has consistently received accolades for their breakthrough foundation formulas. It is frequently referred to as "best of breed". But all the offerings can be somewhat overwhelming. I wanted to break down the different options and tell you why the most recognized, Luminous Silk Foundation, continues to be my favorite.
First, I want to highlight Giorgio Armani Maestro Fusion Foundation Broad Spectrum SPF 15. This formula has been getting a ton of attention and was awarded  Allure magazine's 'Best of Beauty' award for Best Breakthrough, 2012. So naturally, I couldn't wait to try it. Yes, as advertised it is ultra-lightweight.  The pure color pigments are suspended in the oil-based formula to make for the thinest possible consistency. And the oil component moisturizes. The coverage is VERY light. I don't like heavy makeup, but I didn't get enough coverage and had trouble building it up. But for those who don't mind very little coverage and need a super light weight feel, this could be an option. I am not sure I saw the value in a luxury price point with this little coverage.
While the Maestro Foundation wasn't a fit for me, I am WILD about the Giorgio Armani Maestro Eraser Concealer. The lightweight technology translates so well to the heavier coverage of concealer. It covers without feeling heavy or powdery. The moisturizing helps heal dark circles and the finish is radiant and luminous, but not shiny. Instead of the Maestro Foundation, I would suggest picking up the concealer and using where needed and skip foundation all together if you want a more natural look. I think I'll be hooked on this stuff for the foreseeable future.
Giorgio Armani Luminous Silk Foundation is the foundation I keep coming back to. I think I am on my fourth or fifth bottle. I haven't had it in the rotation lately, so I  snapped one up on last week's trip to Neiman Marcus. The oil-free formula has moderate coverage but the effect looks like your own skin. The finish is not dewy but luminous. Exclusive Micro-fil™ technology allows for "glide-on" application and buildable coverage. If you haven't sat down with an Armani artist to try it, I highly highly encourage you. After my reunion with it this past week, I am sold that it is the best luxury moderate coverage foundation out there. I love using the Giorgio Armani Blender Brush to apply this (and really any) foundation.
A couple months ago, I tried the Giorgio Armani Beauty Designer Lift Smoothing Firming Foundation. Smoothing Firming maintains the great finish and consistency of Luminous Silk with slightly more coverage and breakthrough anti-aging tools. Like the Luminous Silk, it uses the Micro-fil™  technology for a smooth application, with the addition of a micro-lifting matrix. Emollients and fillers stretch, firm and smooth the skin's surface. Exclusive Prussian blue pearl pigment revives skin and color corrects. The finish has a luminous glow. For those with with visible signs of aging and want to go the anti-aging extra mile, this could be a good option.
Face Fabric is more of a tinted moisturizer with a powdery finish. The matte, feathery finish isn't my favorite. You can read more of my thoughts on Face Fabric here.
Giorgio Armani Beauty Lasting Silk UV Foundation was developed with long wear in mind. It also has an oil-free formula making it perfect for those who need staying power and may run on the oiler side.
Also note, the Giorgio Armani Beauty Fluid Sheer (InStyle Best Winner) is a great highlighter. I love mixing these with the Luminous Silk Foundation for a more dewy look or adding the bronze shade to darken in the summer.
Armani is available at Neiman Marcus (free shipping with code FALLFS). Shop my favorite Armani products here: