Ready to get your glitter on? This holiday collection from China Glaze is chock full of it. While I am normally not a glitter girl, there are some pretty fun and festive "top coats" for your regular winter mani. I particularly love the more opaque, yet shimmery shades in the collection. Make sure to ready through for a chance to win some polish!
Elfin' Around: Red rust with an aluminum-like mirror finish
Santa Red My List: Pink/red with an aluminum-like mirror finish
Put A Bow On It: Magenta glitter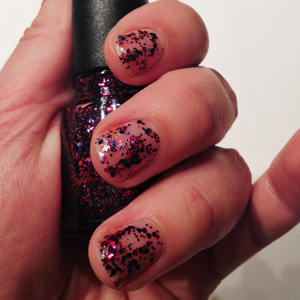 Be Merry, Be Bright: Multi-magenta purple glitter
Your Present Required: Multi-sized and multi-colored glitter
Bells Will Be Blinging: Blue and gold multi-colored glitter
Mingle With Kringle: Fierce gold with aluminum-like mirror finish
This is Tree-mendous: Green with fine gold glitter
I'm giving away two gifts. One prize pack of all the polishes reviewed above. And a second prize which includes: Bells Will Be Blinging, Your Present Required and Be Merry, Be Bright. Unfortunately, due to shipping restrictions, open to US only. Enter using the widget below.
AN EDITORIAL SAMPLE MAY HAVE BEEN PROVIDED BY THE COMPANY AND EVALUATED TO DETERMINE OUR OPINION OF THE PRODUCT IN THIS POST. PLEASE SEE THE DISCLOSURES PAGE FOR FURTHER INFORMATION REGARDING OUR POLICIES FOR USING EDITORIAL SAMPLES.