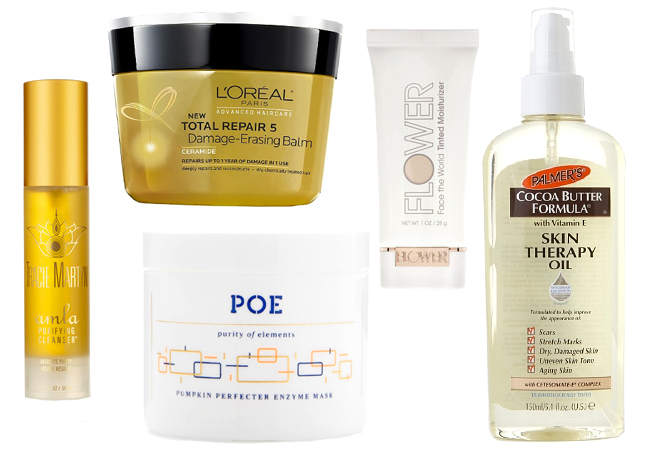 I'm loving all this silky, healing goodness for the start of the spring. While I am whipping my body into shape for some swimwear, I am also working on my skin and hair, wanting it hydrated and still natural looking. So for you today: a little top five round up of what is rocking my world lately.
Palmer's Cocoa Butter Formula with Vitamin E Skin Therapy Oil is from one of those iconic drugstore brands but totally revamped to make me fall in love all over again. This oil helps improve the appearance of scars, stretch marks or just regular ole dry skin. My uneven and ultra-dry legs have been loving this stuff right out of the shower.  The Rapidermal® Absorption Systeme® means just a short wait before you can throw on clothes. Also know this can be used on the face or as a bath oil. Made in USA.
Flower Face the World Tinted Moisturizer is part of Drew Barrymore's new makeup line exclusively at Wal-Mart. I was tripping over myself to try out the collection, particularly when I heard how it performs luxe at drugstore prices. The tinted moisturizer, available in 11 shades, is a light-coverage, luminous cream. It hides perfections and smooths with out cakey heaviness. Even my dry skin gets plenty of moisture. I can honestly say I have been reaching exclusively for this as my BB Cream/Foundation/Tinted Moisturizer since it landed in my hot little hands.
Tracie Martyn Amla Purifying Cleanser, another gem from Net-a-Porter's new beauty section, is a ultra-high quality foaming cleanser. The A-list isn't shy about signing the praises of this cleanser. It gently exfoliates and prevents breakouts while aromatherapy works to relax and recharge. Its namesake ayurvedic anti-aging Amla Extract is rich in Vitamin C while Hawaiian Green Papaya enzymes exfoliate.
POE Pumpkin Perfecter Enzyme Mask might smell very fall but those active pumpkin enzymes are perfect to embrace all year round. The anti-oxidant rich pure pumpkin promotes cellular turnover. The gentle formula would work for more sensitive skin types and can be used up to three times a week.
L'Oreal Advanced Haircare Total Repair 5 Damage Erasing Balm promises to repairs a year of damage in one use – sign me UP! Even though I don't chemically treat my hair, I have seen some more damage around the ends over the past year. The luxurious balm works to instantly improve the appearance of split ends, rough ends, weakness and dullness. After one use my hair was silkier and shiner. One of the biggest bonuses? My hair wasn't weighted down. It was still bouncy and full.
AN EDITORIAL SAMPLE WAS PROVIDED BY THE COMPANY AND EVALUATED TO DETERMINE OUR OPINION OF THE PRODUCT IN THIS POST. PLEASE SEE THE DISCLOSURES PAGE FOR FURTHER INFORMATION REGARDING OUR POLICIES FOR USING EDITORIAL SAMPLES.