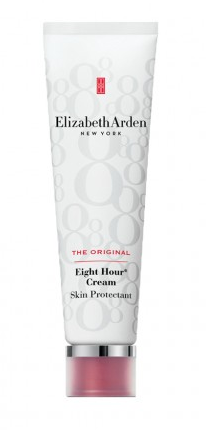 I was thrilled to recently guest pin on Pinterest for Birchbox in honor of International Women's Day (check out the board here). Birchbox teamed up with Elizabeth Arden for the event, and as a thank you for participating, I was gifted the classic Elizabeth Arden Eight Hour Cream Skin Protectant. Frankly, I was kind of embarrassed to be a beauty blogger and not have tried this iconic product. Birchbox to the rescue!
A confession: I did hunt down this classic at a department store a while back and was turned off by the smell. I now realize the counter sample must have been old and turned. Once I was assured the cream has basically no scent, I couldn't stop using it. Beta-hydroxy helps calm irritation. Petrolatum adds moisture. Salicylic acid gently unclog pores. Vitamin E (a.k.a. tocopherol) acts as an antioxidant. This team of stellar ingredients makes the cream versatile enough to hydrate dry skin, tame brows, condition cuticles, treat post-shave and even soothes minor scrapes and sunburns.
Elizabeth Arden's legacy shines through in her bestsellers – her focus since opening her first salon in 1910 was enhancing women's looks with a focus on science. The resulting products have fostered the most fiercely loyal fans. The multi-purpose salve has been around 1930 and remains a best-seller. Now I also understand why people remain so devoted to the formula.
I put Eight Hour Cream Skin Protectant on a bad scrap on Monday afternoon. Where I'd normally have scabbed and dealt with redness, I just have two small flaky spots a couple days later. Makeup artists love it to add glossy lids and lips to any look. It also can help reduce redness. Basically, it is just a lovely thing that we should all have on hand. Available at Birchbox.
I'm also totally hooked on Eight Hour Cream Nourishing Lip Balm Broad Spectrum – was so clutch at the beach last weekend. I can't find it at Birchbox but it is available here.