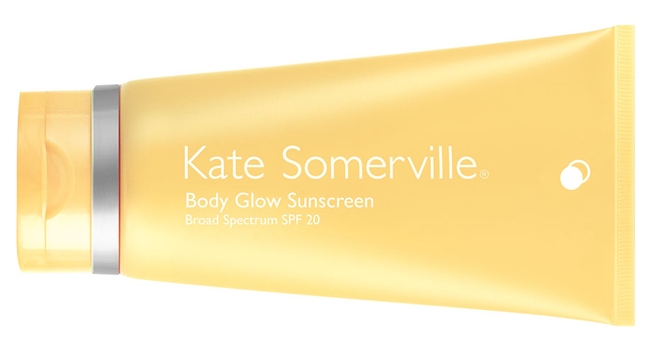 I savored every bit of winter. I loved the cozy weather and the tiny bit of snow we got. But, by next weekend, we are supposed to be in the 80s here. So I relent and welcome Spring with open arms. Time to stock up on shorts, tees, skirts and sandals!
But you know what that also means, right? Not to mention the handful of cocktail dresses I've donned lately, legs are in full view. Kate Somerville 'Body Glow' Sunscreen Broad Spectrum SPF 20 not only adds that crucial sun protection but has the prettiest golden shimmer.
Not just that, it can improve the appearance of skin over time. The formula smoothes, protects and firms all at once. The SPF is powered by a new innovative SolarX Complex with broad-spectrum UVA and UVB protection. Caffeine helps refine texture, improve tone, contour and firm the appearance of skin. Rosemary extract and other antioxidants help fight free radicals. And Mango butter packs a moisture punch.
The lotion has a subtle SPF scent. The thin texture leaves my skin soft and supple. I will certainly be keeping this stuff on hand while the weather heats up. It does everything and more you could ask of an everyday SPF.
Shop for it here.
AN EDITORIAL SAMPLE WAS PROVIDED BY THE COMPANY AND EVALUATED TO DETERMINE OUR OPINION OF THE PRODUCT IN THIS POST. PLEASE SEE THE DISCLOSURES PAGE FOR FURTHER INFORMATION REGARDING OUR POLICIES FOR USING EDITORIAL SAMPLES.