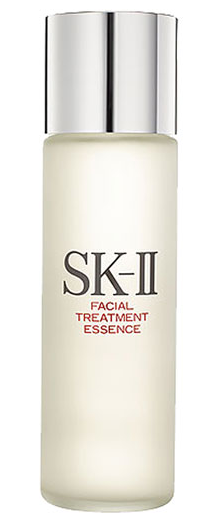 The true center piece of the luxury skin care line, SK-II, is the SK-II 'Facial Treatment' Essence. Much more than just a product, this is actually a ritual. I've been dying to try this line for years. And I am thrilled to report, this lives up to the hype. After a couple weeks of use, my redness was moderated and my skin looks more even. The immediate effects are a refreshing and soothing and it amplifies hydration.
The formula helps stimulate the natural renewal process of the skin's outer layer through a specific application process. Put a few drops in the palms of your hands. Press your hands together and then press it into your face. (in Asia they do it 100 times, I generally make it to about 20). Don't miss your neck and décolleté. I take what is left and use it on the back of my hands.
The key to the essence's efficacy is that it contains over 90% pure Pitera. Pitera was discovered in the 1970's when a group of sake brewers in Japan were discovered to have ageless hands. The yeast they worked with had tremendous anti-aging properties. The scientists isolated the unique yeast strain to derive this source of vitamins, amino acids and minerals. There is a reason SK-II 'Facial Treatment' Essence has been a cult product for decades – a scientifically rooted formula with proven results. And there is something calming about a little "ritual" in my skin care routine.
Some other SK-II favorites: