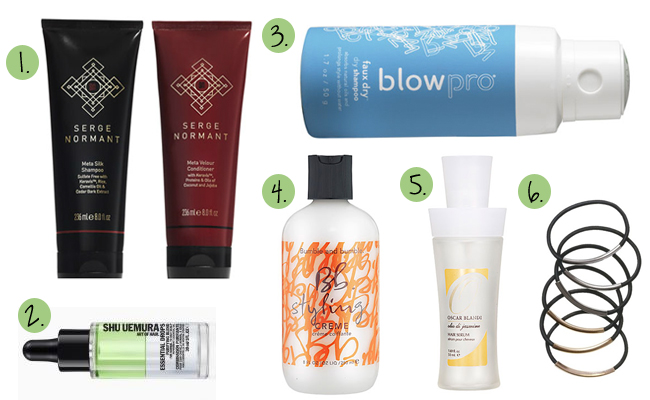 1. Serge Normant MetaSilk Shampoo and MetaVelour Conditioner make up my new special occasion routine. This duo makes my hair unbelievably soft, bouncy and shining. Somehow they manage to nourish my hair, but still make it feel clean. Cedar bark from Morocco works to clarify the scalp and hair. Natural botanical oils, rice and essential fatty acids in the conditioner make hair silky.
2. Shu Uemura Essential Drops Purifying Blend: I am really into scalp health lately. I have been using the Shu Uemura Cleansing Oil Shampoo and my hair is performing better and looking healthier. With the addition of the Essential Drops, flakiness and itching is basically eradicated. I am hooked especially since I learned a healthy scalp can make your hair look better, longer, with anti-aging effects.
3. blowPro 'faux dry™' dry shampoo: Hands down, my favorite dry shampoo this summer is from blowPro. The formula contains a micronized corn starch that volumizes without getting sticky or weighing hair down. It isn't a spray bottle, but rather you squeeze to release the formula, giving more control over the application.
4. Bumble and bumble Styling Creme: This formula is somewhere between a mousse and gel that works great on wet hair. My blow outs tend to last just a little longer, waves tend to hold up a little longer, when I use this stuff before blow drying. Just use a little bit and it will never become stiff or sticky.
5. Oscar Blandi Jasmine Oil Serum: The ends of my hair have become a little dry this summer. And they drink up this hair serum like crazy. Not to mention this stuff smells amazingly good. I love it before bedtime. And it doesn't make my hair greasy in the least bit.
6. Goody Doublewear Elastic: These make a great addition to any arm party, and make a polished looking pony. I also love the headband version that turns into a necklace.