It is like Hourglass Cosmetics is in my head, just knowing what I have been craving this summer: a shiny, bold and glossy look with staying power. I'm weighed down by my winter thick and matte lipstick in this weather. Recently released from Hourglass is a lip duo that is my new go-to: Panoramic Long Wear Lip Liner and Extreme Sheen Lip Gloss, both in Muse, a vibrant orange red with just a hint of pink.
This summer, Hourglass added four new shades of Panoramic Long Wear Lip Liner and three new shades of Extreme Sheen Lip Gloss. Just like the original versions, the duo is super long-wear – much appreciated in the humid, sticky Oklahoma summer.
Starting with the liner, I get a creamy and water-resistant base shade. I love the brush on the other end for precise application. Then as a second layer, the shiny and rich Extreme Sheen adds depth of color. Vitamin E provides hydration on my constantly chapped lips. The finish is truly luxury. And I am swooning over the cake batter scent which is surprisingly sophisticated.
I rocked this duo on this week's TV segment – what do you think?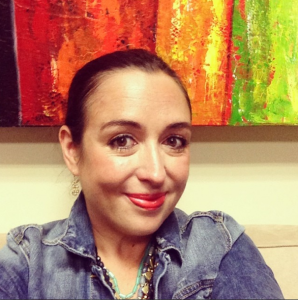 AN EDITORIAL SAMPLE MAY HAVE BEEN PROVIDED BY THE COMPANY AND EVALUATED TO DETERMINE OUR OPINION OF THE PRODUCT IN THIS POST. PLEASE SEE THE DISCLOSURES PAGE FOR FURTHER INFORMATION REGARDING OUR POLICIES FOR USING EDITORIAL SAMPLES.