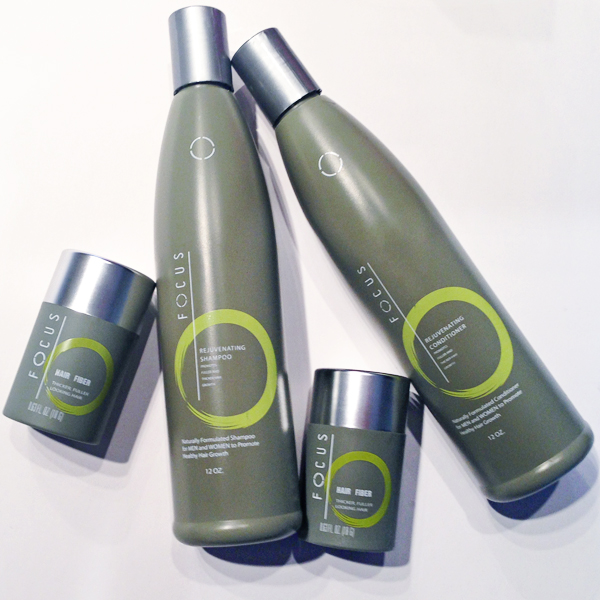 Every once and a while, I find a niche beauty brand that really blows my socks off. Major heads-up to those dealing with thinning hair. Honestly, the ugly truth from me is that not only do I suffer from breakage and thinning hair thanks to years of wearing buns but I also suffer from dry scalp. Gross. While I have found shampoos and conditioners that can heal dry ends, they leave my hair flat. Other shampoos heal my scalp, but leave my hair straw-like. Leave it to a company using ingredients from Mother Nature to find something that does it all.
Focus Hair Care's Rejuvenating Shampoo and Conditioner Duo and Hair Building Fibers are brand new to the market. The shampoo and conditioner uses argan and jojoba oil to encourage growth and nourish the scalp. Biotin also helps strengthen and  lengthen strands. Both have a clean and gender-neutral scent. My ends are hydrated and my scalp is relived from itching. My hair does have a fuller appearance without feeling dry. I was reviewing both of these when I turned to test the Hair Building Fibers. WHOA. Get ready for some good times.
These little cans of goodness are as easy to apply as dry shampoo. I like to use Medium Brown around my hair line. Not only does it fill out areas of thinness, but it also covers grays and adds volume. These fibers are built with keratin and charged with static electricity to bond with hair. You can set them with hairspray but I have been guilty of skipping this step. They don't weigh down hair with sparse application. And they can withstand rain, wind and sweat.  Just wash out with shampoo. Now that's what I call a super-charged product!
Focus Hair Care is Cruelty-free and does not perform animal testing. And all mentioned products are gluten-free and paraben-free as well.
Available at focushaircare.com.
AN EDITORIAL SAMPLE MAY HAVE BEEN PROVIDED BY THE COMPANY AND EVALUATED TO DETERMINE OUR OPINION OF THE PRODUCT IN THIS POST. PLEASE SEE THE DISCLOSURES PAGE FOR FURTHER INFORMATION REGARDING OUR POLICIES FOR USING EDITORIAL SAMPLES.