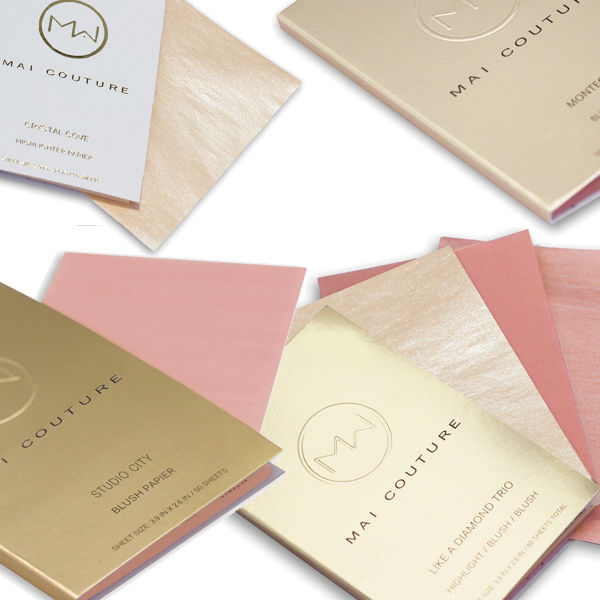 Trolling the beauty section of Neiman Marcus not long ago, I came across these little delicate papers. I thought they were oil blotting papers, but in actuality they were that and much much more. Mai Couture has been in the back of my mind ever since. I can't tell you how thrilled I was when I got a chance to try out some of their latest launches. They have some new shades and sets for the fall beyond their basic foundation and oil-blotting offerings. I've been testing them out and am so impressed by their unique approach and travel-friendly packaging.
Crystal Cove Highlighter Papier is a new shade of highlighter and my new favorite way to amp up the glow on the go. You can even use it on the body – perfect for on your shins and collar bones pre-cocktail event. Just lightly press the colored side of the paper to desired areas (I like cheekbones, chins, cupid's bow, nose and brows). The formula comes off surprisingly evenly and each sheet tears easily and cleanly.
Studio City and Montecito Blush Papier work in a similar way. At first I was concerned about the precision required for blush. But using your hands opposite the colored side of the paper gives the perfect, smudgy (in a good way) rosiness. I love how it layers with the highlighting papers and the formula is paraben and talc free. The Studio City shade is my favorite – radiant without too much drama. Apply using a semi-circular motion on your apples. There is plenty of pigment on each sheet should you want to double up for more depth.
Like A Diamond Trio Pack is a brilliant collection, perfect for a long trip or a girl constantly on the go. Can you imagine bronzer, highlighter and blush all in a little credit card sized package? This pack contains:
Highlighter in "Crystal Cove"
Blush in "Sunset Blvd."
Blush in "Studio City"
One sheet is enough for a single application so you get 20 days of makeup out of this collection. Start with a mattifying bronzer, follow with a blush around the apples of your cheeks and then highlight as desired. I feel like this just screams honeymoon or European vacation. A similar product, Mai Couture Glow-geous Trio, has been on my wish list at Neiman Marcus and Nordstrom for ages.
Mai Couture's retailers include Nordstrom, Neiman Marcus and Beauty.com. Fall launches should be available around October at these retailers but you can find them now at MaiCouture.com.
AN EDITORIAL SAMPLE MAY HAVE BEEN PROVIDED BY THE COMPANY AND EVALUATED TO DETERMINE OUR OPINION OF THE PRODUCT IN THIS POST. PLEASE SEE THE DISCLOSURES PAGE FOR FURTHER INFORMATION REGARDING OUR POLICIES FOR USING EDITORIAL SAMPLES.