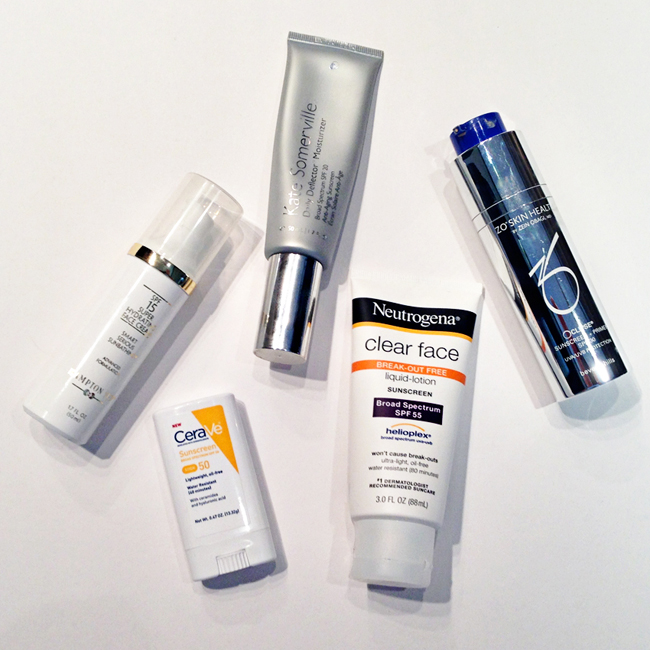 If you aren't already getting your mug nice and protected every morning, now is the time to start. SPF is crucial and (along with retinoids) the only thing proven to prevent aging. Here are my current top five for both under makeup and for a day at the pool:
Hampton Sun SPF15 Super Hydrating Face Cream manages to be lightweight and super nourishing. The Calendula soothes my redness-prone skin while Canadian Willow Bark calms. I love how it quickly absorbs and is powered with gentle zinc oxide.  Fragrance and oil free.
CeraVe SPF Sunscreen Stick is relatively new to the market, but you should be able to find this in your drugstore. Perfect for on the go, this stick is also powered with the gentle physical-only sunscreens. The formula finishes dry with no greasy residue.
Kate Somerville Daily Deflector Moisturizer Broad Spectrum SPF 20 Anti-Aging Sunscreen has long been a favorite (initially reviewed here). It is the trifecta, offering hydration, UV protection and anti-aging benefits. The unique formula keeps the sunscreen in a "reservoir" on the skin, maximizing effectiveness.
Neutrogena Clear Face Break-Out Free Liquid-Lotion Sunblock SPF 55 gives you superior sun protection without clogging pores. The water-light texture is weightless, letting skin breathe. At the same time, it is water-resistant, oil-free and fragrance-free. Not only does it look great under makeup, but also works for those days when outdoor activites call for a feather-weight SPF.
ZO Skin Health 'Oclipse' Sunscreen + Primer SPF 30 is the ultimate sunscreen for under a full face of makeup. This stuff has a silky texture with nude coloring. It has no coverage but avoids that nasty white cast. Not only does it have broad spectrum UVA/UVB protection but it blocks natural melanin – BONUS!