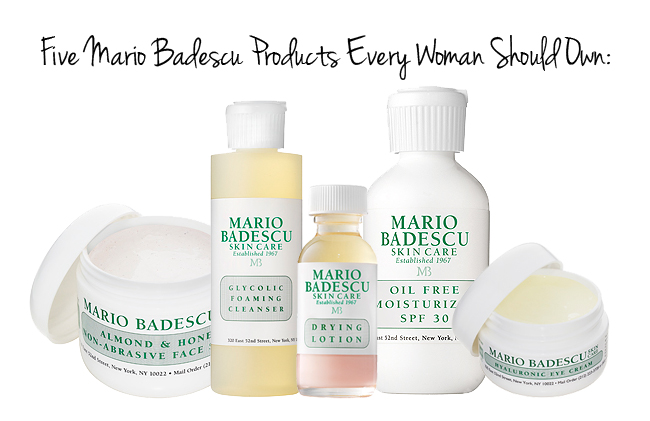 I've been deep in the world of Mario Badescu for the last couple of weeks. Not a bad place to be at all. The products, established by  Romanian-born Mario Badescu in 1967 in New York, are based on Eastern European skincare with a focus on being simple, gentle and effective. The price point is compelling, bringing luxe results and reasonable prices. Today, the spa attracts stars and beauty gals in the know (I dream of one day visiting). While I have always had mad respect for the brand, I haven't really had a chance to dive in and discover some of the crown jewels. Today, I am rounding up five of their products that I think every woman (and actually men too) should have in their bathrooms.
1. Glycolic Foaming Cleanser: My obsession with Glycolic Acid is no secret. There is nothing better to break down debris on the skin to reveal more even, radiant skin. This version is super soothing (the formula is amped up with herbal extracts). They recommend using a couple times weekly, but I just can't stay away – shhhh. This works like a champ with my Clarisonic.
2. Almond and Honey Face Scrub: I may or may not have just gone into my shower and taken a huge whiff of this stuff. Do you like almond scents as much as me? You won't be able to resist this yummy concoction  This non-abrasive scrub has finely ground Almonds and Cornmeal to gently remove dead skin cells. The honey acts to hydrate and soften skin. YUM.
3. Drying Lotion: Is there a more iconic Mario Badescu product? I think not. I've owned this in the past, but feeling high and mighty about having my acne under control, it has been out of the rotation. Well, a short day after getting my paws on a new bottle, I got the deepest, most annoying blemish on my neck. SO RANDOM. Anyway, I used this spot treatment loaded with salicylic acid and calamine and that bugger shrunk right up overnight. Don't shake this stuff – just dip a cotton swab past the liquid into the pink lotion and dot on the blemish. Don't rub in. (Note: this will also take the itch out of mosquito bites!)
4. Hyaluronic Eye Cream: I'm dry… dry… dry. And nothing looks less cute than a dry, haggard under eye. This calls for the revival skills of Hyaluronic Acid which looks in moisture without leaving a greasy or heavy feel. After a couple minutes of absorption, this eye cream works like a dream under makeup. I've been using it day and night and darkness and dryness are banished! You can also use this on the lips.
5. Oil-free Moisturizer SPF 30: I admit, I turned up my nose at first to an oil-free moisturizer. But in the interest of blogging, I tested it out and was so so impressed. The formula has a balance between being lightweight and hydrating (not an easy task for a sunscreen). Green Tea fights premature aging while Aloe Vera hydrates and softens skin. St. John's Wort soothes and repairs. This is my new recommendation to those who need sun protection after starting a retinol treatment. Dry skin suffers, don't shy away. This keeps my skin comfortable all day.
So, Mario Badescu fans, tell me in the comments… which of your favorites did I miss?
Shop my favorites here:
Mario Badescu products can also be found at Nordstrom.
AN EDITORIAL SAMPLE WAS PROVIDED BY THE COMPANY AND EVALUATED TO DETERMINE OUR OPINION OF THE PRODUCT IN THIS POST. PLEASE SEE THE DISCLOSURES PAGE FOR FURTHER INFORMATION REGARDING OUR POLICIES FOR USING EDITORIAL SAMPLES.