If you have a makeup junkie on your Christmas list (or are just a makeup junkie yourself), this has got to be one of the best holiday sets I have come across. This nine-piece collection has ultra-wearable, but festive eye, lip and cheek products.
Overall, this is a serious value with items anyone would love to wear. The collection includes the following:
Eye colors in Queen Phyllis (light buttercup), Heirloom (shimmering grey) and Posh (sparkling carbon).
Cheek Tint in Charm (candy heart pink).
Secret Radiance All-Over Face Color (golden candlelit sheen).
100% Natural Lipgloss in Pink Marzipan (delectable magenta).
Round the Clock™ Waterproof Eyeliner in Midnight (blackout).
Flawless Definition Curl and Lengthen Mascara in Black.
Double-Ended Tapered Blush and Shadow Brush.
The Cheek Tint and All-Over Face Color have shimmer but are fairly neutral. The Cheek Tint is very sheer (don't fear that bold pink in the picture) while the All-Over Face glow has great impact and is stunning – perfect for a holiday party. The cheek pots have dials on the dispenser, so you can throw them in your purse with no mess.
The eyeshadows, on the other hand, do not have dials so they might be tricky to travel with. There is very little fall out with the eyeshadows except for the intense Posh, but the shimmery black shade makes it worth it. Heirloom is a unique grey shade that I plan on wearing every day. The shade looks great with inky liner and big lashes.
The mascara and eyeliner are in classic jet black. And the waterproof eyeliner is creamy and stays put all day long. The hydrating and shiny lip gloss is a subtle pink shade with a cake batter scent. The brush is good quality, although I have an issue with dual ended brushes – so hard to store!
The One of the best parts was this pamphlet with details on how the products can be worn together.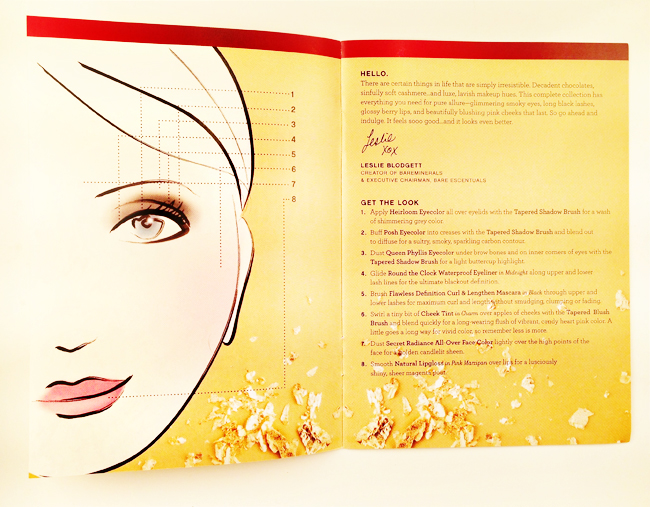 AN EDITORIAL SAMPLE WAS PROVIDED BY THE COMPANY AND EVALUATED TO DETERMINE OUR OPINION OF THE PRODUCT IN THIS POST. PLEASE SEE THE DISCLOSURES PAGE FOR FURTHER INFORMATION REGARDING OUR POLICIES FOR USING EDITORIAL SAMPLES.