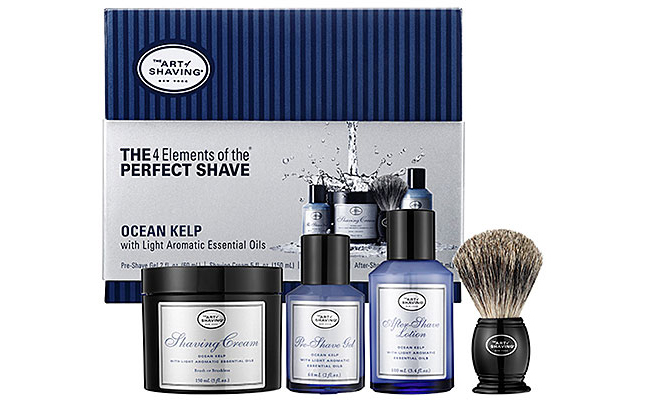 I am proud to announce that over here on Belle Belle, we are going to start including some men's products. I mean, guys should look good too, right? Hope you are as excited as I am. Often, men are interested in products but don't enjoy the hunt and research as much as we do. So, I have enlisted the help of Beau Beau, my male counterpart, as chief guinea pig.
Even us girls can appreciate a good shave. And it really is the center point of a man's "beauty" routine. The Art of Shaving has crafted these sets of four "Elements" – they are true masculine luxury. The set contains full-size:
Pre-Shave Gel
Shaving Cream
Pure Badger Black Shaving Brush
After-Shave Lotion
There are various scents, but in honor of this last burst of summer heat, we picked Ocean Kelp. The fragrance is refreshing and pleasant and the kelp and oils help sooth skin. The four steps can help prevent razor brun and ingrown hairs. The Pre-Shave Gel softens and preps skin. The Shaving Cream is formulated with glycerin to hydrate hair and improve razor glide. And the badger brush distributes the cream like we never knew possible. And finish it off with the After-Shave lotion for hydration.
Beau Beau reports "it makes shaving an event" and adds "more than a couple notches to the quality ladder" over regular drugstore shaving cream. And with the upcoming holidays, he points out "it is a thoughtful gift."
So, what do you guys think of some added men's goodies on Belle Belle for our men?