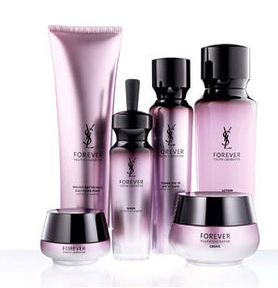 YSL Beauty recently launched a new collection with a catchy little name: YouthLiberator. The star of this collection is a scientific break through called Glycobiology. This stuff is big time – Glycobiology was awarded 7 Noble Prizes. So what does this have to do with skin care? Check out what YSL has to say:
Glycobiology is the study of glycans, molecules which are naturally present in the skin. Glycans are responsible for directing communication between cells, ensuring that they send and receive the messages required for optimal performance. Without glycans, cellular communication breaks down and the body cannot properly function. With age, the quantity of glycans naturally decreases, slowing the skin's regeneration process and triggering the visible of aging: wrinkles, loss of density and dullness of complexion. Yves Saint Laurent introduces GLYCANACTIFTM, a patented complex which imitates the action of glycans, helping to restore your skin's youthful beauty.
The line is developed for skin over 30. And I have really enjoyed the products. The Forever Youth Liberator Creme does not plump like some other moisturizers, but it does lend to radiance with its mirror-effect micro-shimmer particles. Makeup is a dream to apply over the Cream and adds a luminous look. And the real highlight, for me, is that includes SPF 15. I usually use two seperate products – moisurizer and then SPF – so this is a time saver. If you are willing to have two different creams – one for evening and one for morning – this is a great option.
I also tried the Yves Saint Laurent Beaute Forever Youth Liberator Eye Cream. The consistency is relatively thick, which I like. I feel like there is more control in the application. Again, there wasn't a lot of plumping but definitely a illuminating effect. My puffiness and dryness was soothed and the under eye area was refreshed.