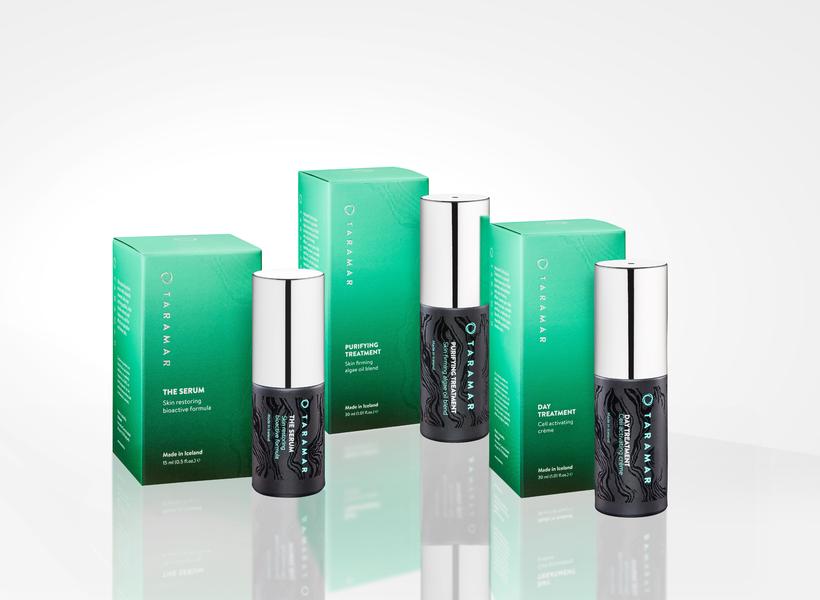 During last month's trip to Iceland, my friend and I made a detour on our way back to Reykjavik before our final evening at the Blue Lagoon. I had read about Taramar and was dying to try it, especially since it is a little tricky getting your hands on stateside. We visited their marketing center and met with their charming head of marketing. I learned that the line was started in 2005 by Dr. Gudrun Marteinsdottir, a professor of science, on the hunt for skin care with more pure ingredients. She began by making creams for herself, and soon after, her friends were clamoring to get their hands on her creations. Dr. Marteinsdottir's line is comprised of fresh products, designed to be used in 12-24 months. Ingredients include seaweed from the west of Iceland. In fact, 98% of the ingredients are from the island nation.
I had the opportunity to try out all four core products: Day Treatment, Night Treatment, Purifying Treatment and The Serum. The Purifying Treatment is an oil-based cleanser that I used at night. I followed with The Serum and then moisturized in the AM with the Day Treatment and in the PM with the Night Treatment.
The Day treatment works to unclog the cells and illuminate skin and works beautifully under makeup. The Night Treatment provides deep nourishment and antioxidant protection. The Serum is the star, working against anti-aging and discoloration. It strengthens skin, giving my skin texture its best look ever. Lastly, the Purifying Treatment gives skin a deep clean while leaving behind hydration. After a month of using the products, my skin was more even and my pores were dramatically clearer. For one of the first times, I was sad I had to rotate through my editorial calendar and start trying out a new skin care line. I could envision using the four Taramar products as a permanent part of my skin care routine.
While you can't order this stuff on Amazon or pick it up at Sephora, it is worth tracking it down at nammi.is where they ship to the US directly from Iceland.